UPDATE:  
"On January 28, County Manager Mark Schwartz released his statement on the Public Spaces Master Plan (PSMP). This widely published statement fails to address the widespread substantive criticism of the PSMP methodology and results. The Manager's statement also contains numerous erroneous assertions which have prompted both Parks4everyone and the Arlington Civic Federation to issue responses. " 
Read the Parks 4 Everyone statement and corrections to the County Manager's statement here. 
---
STOP!  If you've been directed here from a mass emailing or statement saying,"[Parks4everyone] have proposed to eliminate 11 sports fields in Arlington…" Then you should know….No one has asked that 11 fields be de-commissioned. You've been fed a false and misleading narrative.  Please make sure to take a closer look at the actual content of this website and the petition.Read more about the email campaigns and messaging you are receiving.
———————————————————————————————–
Arlington parks should be places for everyone and should meet the needs of a growing community.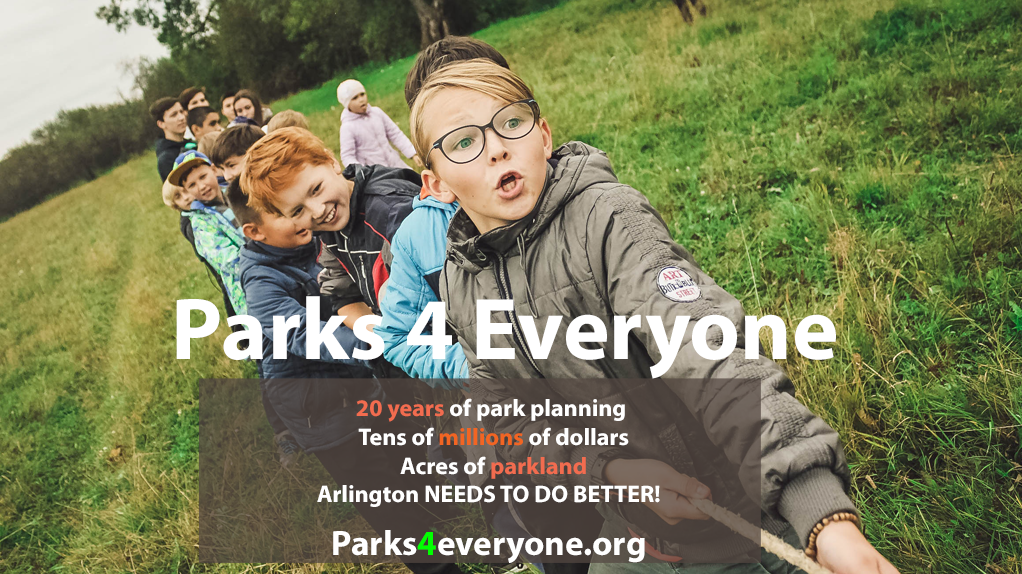 Discover what else you can do for your community parks! 
The County is about to approve a 20-year Master Plan of our public spaces (called POPS).
At stake: Tens of Millions of Dollars, Acres of Parkland, Community Priority Needs in Our Parks and even the ability to meet the growing needs of other recreational needs…for the next 20 years. 
This POPS plan is moving forward without a public review of critical park and rec usage (supply/demand) data.
The Dept, of Parks has this data, but is refusing to make it part of ANY public process.
Once the POPS plan is approved, it will lock in our budget and the future of our public spaces for 20 years prioritizing recreational needs (without data to support them) over all other public space needs.
Residents have expressed the priority needs for more open and natural spaces including trails and community event spaces.
However,  unless we have a transparent review of how park facilities are currently utilized, most of those needs will not be met.
---
ACT NOW &  SPEAK UP FOR THE NEXT 20 YEARS OF OUR PARKS! 
LATEST NEWS:
6 Arlington County Myths Busted
Debunking the Sports Advocates' False Narratives 
ABOUT US:
Parks4everyone.org, a county-wide grassroots initiative to make our parks for everyone. Parks4everyone.org is supported by The Friends of Aurora Highlands Parks  www.FriendsofAHparks.org  , residents and park advocates throughout Arlington VA